Every Australian to know their role in healing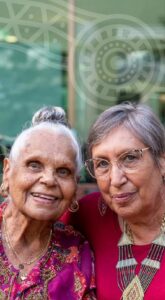 The Healing Foundation has committed to a strong and ambitious vision: to ensure that Every Australian Knows Their Role in Healing.
This vision underlies the new Strategic Plan (the Plan) for The Healing Foundation, for 2023-2028. Informed by survivors, and developed in collaboration with, The Healing Foundation Board, the Stolen Generations and Youth Reference Groups, the new strategy reflects survivors' aspirations for The Healing Foundation.
A practical, survivor centred Strategic Plan
The Plan will direct The Healing Foundation's work for the next five years and will help to remove the systematic barriers that have a negative impact on healing. Through this vision, The Healing Foundation aims to equip as many Australians as possible with the tools and knowledge they need to play an active role in making healing happen.
The Plan is practical, survivor-centred, and outlines four healing roles that Make Healing Happen, enabling each reader to ask – and answer – the question, 'what is my role in healing'? Each of these groups play a different role in healing.
The Healing Foundation believes all our supporters are champions; those who "operate with strong knowledge and advocacy for upholding human rights." But in your personal and professional life you may also have the opportunity to connect with the other roles that support Make Healing Happen.
A national role in healing
The Healing Foundation staff, reference group members and board always seek to be "Change Makers", as The Healing Foundation works towards 'Outcome 4': playing a national role in healing and ensuring that each individual shows what healing looks like and remains resourceful.
The Healing Foundation will continue to take leadership in facilitating healing in the four outcome areas of the plan: individual, collective, societal, and our healing. This focus will accelerate work across the country to restore well-being, strength of spirit, family connections, cultural protection and safeguards for Stolen Generations survivors, their descendants, and communities.
A passion for healing will take us powerfully forward
THF Board Chair Steve Larkin says that it is the "passion for healing, professionalism and commitment to being survivor-led" demonstrated by all those who were involved in creating this Strategic Plan – including THF staff, partners, Stolen Generations and Youth Reference Groups, and Board Directors – that has got THF to where it is, and it "will take us powerfully toward our vision."
To learn more about our Strategic Plan 2023 – 2028 please click here.