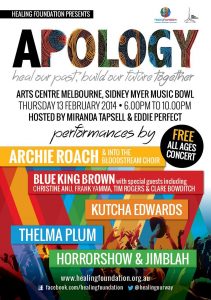 The Healing Foundation was proud to present Heal Our Past, Build Our Future, Together – the 2014 Apology anniversary concert at the iconic Sidney Myer Music Bowl on the lands of the Kulin nation on Thursday 13 February 2014.
The concert brought Indigenous and non-Indigenous performers together in a shared future for all Australians. The theme Heal Our Past, Build Our Future, Together celebrated the unifying and healing impact of the Apology. It was a great opportunity to celebrate Aboriginal and Torres Strait Islander culture and the strength and continuing resilience of our Stolen Generations.
The concert featured a stellar line up of musicians including Indigenous artists Christine Anu, Archie Roach, Frank Yamma, Jimblah, Thelma Plum, and Kutcha Edwards. They were joined by non-Indigenous performers Tim Rogers from You Am I, Clare Bowditch, Hip Hop duo Horror Show, and Australian urban roots band Blue King Brown.
Stolen Generations member and Human Rights Award winner Uncle Archie Roach said of the night, "We are really planting the seeds for our children and our grandchildren. Music is a great medium and it impacts on people on different levels. It brings people together and that's what the concert will do."
The Healing Foundation acknowledges the Kulin Nation and pays our respects to your ancestors and Elders both past and present.